Travel & Tourism
Tour Operators, Hotels, Airlines
Let's Go Shopping
Fashion, Cosmetics, Food & Drink, Services
Internet
Computer Equipment, ISP's, Directories, Training & Courses
Business
Small Business, Companies, Exhibitions, Trade
Career
Employment, Education
Society and Culture
Religion, Art & Literature, Organizations, About Syria, Government, Embassies
Lifestyle
Health, Money, Dining Out, Home & Garden
Media
Newspapers, Magazines, Television, Radio, Advertising
Entertainment
Movies, Music, Comedy, Theatre & Plays, Books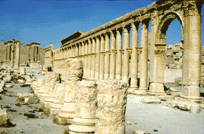 Usually about sixty thousand tourists visit Palmyra during the festival (Badyet Al-Chaam) in the Syrian Desert.
This Festival is held in the last week of May.
Many activities happen in this festival: horses, camels and cars races, the most beautiful horse, music and theatre shows, the antiques and hand made products market. One of the major activities of this festival is the "Miss Desert" competition. Miss desert will be crowned during a grand gala hold at the historic temple of "Ba'l" an Ancient Palmyran god.